Coke oven is a thermal equipment for metallurgical coke, a large industrial kiln with complex structure and continuous production. Coke oven is mainly composed of carbonization chamber, combustion chamber, roof, heat storage chamber, and small flue. Refractory materials used as lining for these parts, the quality of refractory can directly influence the operation and service life of coke oven.
Generally speaking, refractory materials for coke ovens include silicon bricks, semi-silica bricks, clay bricks, high alumina bricks, thermal insulation refractory materials, refractory fiber products, refractory mud, etc.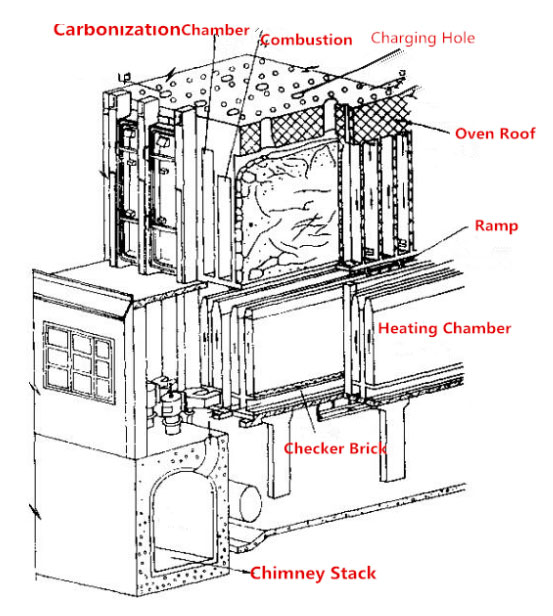 1. Carbonization Chamber
Carbonization chamber is periodic work, the temperature of the furnace wall surface decreases to about 600℃ during coal loading, and 1000~1100℃ during coking. Therefore, the wall of the carbonization chamber is generally built with silicon bricks.
Due to the sudden change in temperature of the furnace door at the ends of the carbonization chamber, from 1000℃ to 500℃, nowadays, the refractory products tend to use high-quality high-alumina bricks, sillimanite bricks and andalusite masonry.
2. Combustion Chamber
The combustion chamber share the same furnace wall with carbonization chamber, so the bricks are the same as used in carbonization chamber.
3. Oven Roof
The temperature around the coal charging hole on top of the furnace fluctuates greatly. Usually, it is built with clay bricks, and other parts are built with silicon bricks.
4.Ramp
The ramp connects the combustion chamber with the heat storage chamber, here requires the refractory brick has stable structure and good heat resistance. Mostly, small coke oven use clay bricks, large and medium coke oven use silicon bricks for construction.
5. Heating Storage Chamber
The single vertical wall and bottom of the small coke oven heat storage chamber use clay bricks, in medium and large coke oven heating storage chamber, we suggest totally prefer silicon bricks for construction, to achieve the entire coke oven evenly expand.
6. Small Flue
The small flue is located at the bottom of the heat storage chamber and is connected to the flue, the whole lining is constructed with clay bricks.
In general, the refractory materials for coke ovens around the world are mainly silicon bricks, which require precise dimensions and have sufficiently high bulk density, good thermal conductivity, high temperature creep and high temperature strength.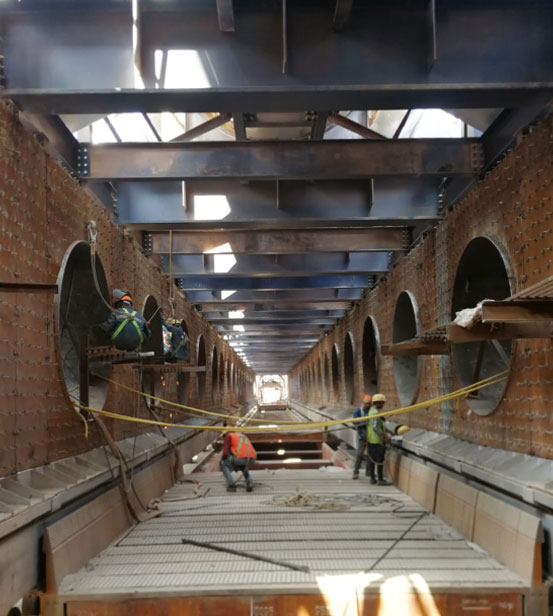 SIJIHUO Refractory is located in Xinmi city with more than 20 years' manufacturing experience. We are specialized in producing refractory castables, bricks, BFA for industries like coke, building materials, steel, nonferrous metals, electric power industries,etc. Supply one-stop refractory manterials and construction solutions for these industries. We can provide you refractory materials for coke over according to your needs. We look forward to cooperating with you, with professional services, good quality products and most competitive prices!